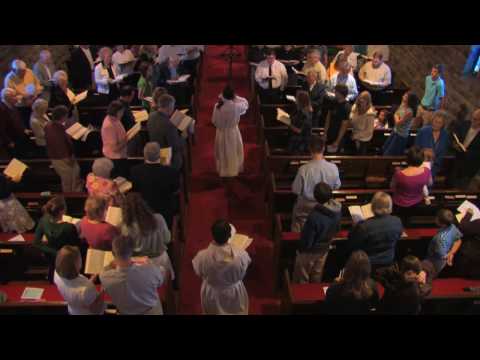 This isn't your father's liturgy… oh wait, yes it is. Find out about the dynamic mixture of ancient liturgy and a community of loving, modern people that's attracting people of all ages to Grace Lutheran Church.
Press:
Reactions:
Ken Stoll:
Awesome clip, thanks for sharing that Michael. Grace does "become an oasis in a wasteland…". It even meant more to me seeing a church like that in Tulsa. You got me hooked on the Mockingbird blog not too log ago and now I am seriously considering visiting a local Lutheran church (I attended a Lutheran school for 7th grade and was fascinated at the time with the young and jovial pastor who listened to the WRIF–a rock and roll station here in the Motor City).
Jeff:
As a product of modern evangelicalism I find Grace Lutheran a refreshing and stable expression of faith. Less manipulation and coercion. I appreciate their contemplative approach to spirituality. A lot of us are hungry for something deeper and more stable.
Alex:
I attend a medium-sized Southern Baptist church in Arizona. We have moved from being very traditional to more contemporary over the past decade. I don't like it at all. I feel removed from God when I hear the drums pounding or the electric guitar blaring. I have often toyed with the idea of breaking free from the SB tradition I have immersed myself in for the past thirty-plus years and joining a Lutheran congregation. I would miss a traditional sermon, but I think everything else about a liturgical service would draw me closer to Christ. Thanks for this video.